DISPATCHED FROM THE CROSSROADS, AT THE INTERSECTION OF yesterday & tomorrow
mad in pursuit journal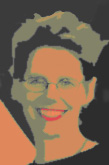 Visit our STORE.
Saturday, 12.30.07: Holidays In Review
Christmas in St. Louis has taken on a pattern: leisurely conversations, early happy hours, too many cookies. I do miss my dad, though, as we all take turns sitting in his big reclining chair, still parked in front of the TV. Whenever I sit in that chair, I remember being cuddled in his lap.
This year's visit went fast. I not only got to visit with my mom and sisters and brother, but now all their kids are joining the conversation. Patrick was the first to stop by. (I believe he was escaping Xmas housecleaning -- good strategy -- who could object to a teenage boy visiting his grandma's?). His brothers John and Brendan snagged us the next day for a Christmas eve visit to the Science Museum (Body Worlds). Then John challenged me to checkers (1-1) and Brendan treated me to a discussion on utopian societies (he's 12) -- we did our checkers later.
On Christmas I got to catch up with Trey, who turned 21 last month and doesn't mind hanging out with the adults and can hold up his end of the blah-blah-blah. His brother Sam ducked in and out -- oh, I'm glad we made those Christmas videos together back when he was a kid -- now I hear he sings bass with a choir that's going to NYC in April, but... he's not up to giving any solo performances to the family yet. Sarah is looking totally glamorous, showing off the results of the hair straightener she got from Santa -- I think she's another family artist in the making.
My brother's daughter Becky is chasing around her 2-year-old Bree and we seemed to miss a good talk, but I did grab her sister Molly for our semi-annual breakfast together, where I get to nag her about continuing her college eduction (are you reading this, Molly?).
My brother Tom gave me another box of his treasures and dumpster finds for our Ebay project. My sister Kathleen and I put our heads together over some graphics/video projects, sitting side-by-side with our laptops blazing. I got to see my sister Ellen kick butt playing pop culture Trivia, but we missed having one of our philosophical dialogues.
And of course my mother and I never seem to run out of things to talk about. Our "project" this trip was tweaking the wireless computer network Kathleen set up for her, so her downstairs computer could print through her upstairs computer. Cool.
The Price family party (a "no-host" annual event at the family's favorite Irish pub) was another opportunity to tune into the family's gift of gab -- this time with aunts, uncles, and cousins.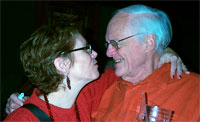 This is winding up like one of those Christmas letters but I haven't done a very good job recognizing how unique each member of my family is and how I love their ways of engaging with the world (and me). And I've left out my brothers-in-law and my husband altogether -- but where would we all be without their affection and support? (Party photo on right from Kathleen... I did bring my camera... but....)
NOW for a few days of discipline -- a break from greasy road food, party snacks, cookies, and too much alcohol -- till our next road trip starts on Friday.
Thumbs Up if you liked this entry.
Road: Winter sun blinded us on the way to StL. On the way home, drizzle between StL and Columbus OH; driving, foggy rain between Columbus and Cleveland; dry from Cleveland to Rochester.