DISPATCHED FROM THE CROSSROADS, AT THE INTERSECTION OF yesterday & tomorrow
mad in pursuit journal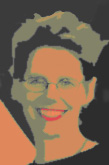 Visit our STORE.
Saturday, 12.15.07: Week In Review
For "holiday season" it's dead around here. My drawing is cheery though, right? Friends galvanized around a project... Sigh...
Despite our Frosty the Snowman weather, I'm not much in the holiday spirit. Shopping -- even for non-gift things like ink cartridges -- only puts me in a bad mood. Everyone is grumpy and hurried. Drivers are rude. Christmas carols blast super-cheerily or super-sentimentally over the loud-speakers. That was yesterday -- problem was that I went to a Target in a different mall and everything was in the "wrong" place. Why aren't chain stores standardized on the same floor plan??? Who needs the delight of discovery at Target or Barnes and Noble???
I've been neglecting my ebay store but closing a deal with a bookseller in Los Angeles. We'll send him our 90 antiquarian public health books and he will sell them via his catalogues and on the internet. He's a specialist in medical history. Doing a consignment deal isn't the same as getting a big chunk of money outright, but it's WAY better than me trying to sell them one by one on ebay.
Department of Obsessions. The last time I needed to wipe out my computer hard drive, I made a list of every piece of software installed, with serial numbers, etc. Yesterday I updated that 8-page list with the past year's updates. Then put a copy on my Palm PDA. Maybe computers these days are like prosthetic minds and you worry that any disaster would be The Disaster. Apparently this was more important to me than writing any Christmas cards.
Still working on my two-minute video, still in the drawing stage. But the more I do, the farther away from the finish line I seem, Thought sure I be ready for a Christmas premiere, but I don't think so.
For our movies, Jim and I have been watching documentaries on artistic greats -- Klimt, Picasso, Jackson Pollack, Andy Warhol. And I read a book on Marc Chagall. These guys are both inspiring and intimidating: How hard they had to work -- how everyone hated them at first, but how persistent they were -- then how fame wasn't necessarily such a good thing for their work or their minds -- how they may or may not have renewed themselves.
Another high point: text-messaging with my sister (then actually talking to her of course).
Thumbs Up if you liked this entry.