DISPATCHED FROM THE CROSSROADS, AT THE INTERSECTION OF yesterday & tomorrow
mad in pursuit journal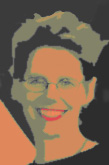 Visit our STORE.
Saturday, 12.8.07: Week In Review
Winter hit hard this week -- snowy and frigid. Made me want to hibernate. But -- I have a long to-do list before back-to-back travel to St Louis and Daytona.
Art project. I'm deep into my video project, but not deep enough that I can move fast. The secret of getting it done within the next two weeks is DOING IT. My drawing keeps tending toward this overworked style with the retro comic book palette (see right). Since I don't have to please anyone but myself, I'm going with the flow.
Cut & color. Long overdue. Not sure I like it. Boring.
Other than jaw-flapping with my hairdresser and his colorist for two hours, the only other social engagement I had was breakfast with Joanne. Always inspiring as we share the adventures of living on our respective planets.
Thumbs Up if you liked this entry.