DISPATCHED FROM THE CROSSROADS, AT THE INTERSECTION OF yesterday & tomorrow
mad in pursuit journal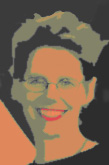 Visit our STORE.
Saturday, 12.1.07: Week In Review
A busy if not terribly productive week on Planet Susan. Woke up to a couple inches of snow today.
Art. I set out to make a 2-minute video: "Great Dames Take Naps," based on some of the thinking and drawing I'd done lately. I wrote a script. Recorded the script. Fumbled with Adobe Flash. Downloaded the update of Adobe After Effects, which came with a free 30-day subscription to all the video tutorials at lynda.com. Watched videos. Why is it that, as soon as I decide to turn something into a "quick" something else, I zoom immediately past the limits of my competence? Or is that what art is about?
Paused my arty problem-solving to run my life. Tinkered some more.
Consulting collaboration. Set up a web page to transfer all the artwork and code to Lesley to go live on her website.
Meanwhile Jim hit the geezer grandslam by having 6 healthcare appointments in 5 days. 2 were just routine checkups. One was planned dental surgery. Then, oops, needed a root canal on the other side! Two visits for that. His poor front lip is all swollen and bruised... oooowwwwww. Neither procedure is done with yet. The dentists are mining gold from his choppers.
My empathy with my guy was high: had bizarro nightmares about gory leg and shoulder implants (mine), about my burning the feathers off the head of my parrot, and (this morning) about nuclear holocaust. Yikes.
Thumbs Up if you liked this entry.