DISPATCHED FROM THE CROSSROADS, AT THE INTERSECTION OF yesterday & tomorrow
mad in pursuit journal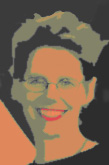 Visit our STORE.
Saturday, 11.17.07: Week In Review
An intense week on Planet Susan as I engaged all my graphic and web design skills (and more!).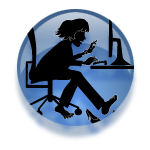 My job this week was laying out skeleton pages for the Integratis web site -- 4 pages "only." The layout gave me a ton of practice correctly specifying Cascading Style Sheets (always a guessing game)... practice designing little characters and tracing them in Illustrator... and practice with making "glass" buttons. I was awarded for my efforts with excitement and glee from my creative partners and a trip to Florida in January.
Enjoyed a Tuesday night out with Maria to go chat with a group at Sheila's country club about Arbonne beauty products. The presentation was less about beauty and more about how to cash in on multi-level marketing. But, after 3 glasses of wine, I was getting more curious about how "Swiss formulas" would revitalize my vintage skin.* They gave me back the test kit for a full 2-week trial.
Of course I know that (aside from your genes) the best skin comes from good living -- sleep, nutrition, water, attitude -- and the most fascinating vintage skin comes from living life to the maximum.
Aside from all that, my ebay business was brisk this week as I mailed out the goods from last week's auctions. Gotta get more posted!
Thumbs Up if you liked this entry.
*Maybe "vintage" is a good way to think of it -- you can't turn the clock back without the assistance of a plastic surgeoon -- but maybe it's just that "patina" we should be going after -- not 20-year-old skin, but fab 60-year-old skin.