DISPATCHED FROM THE CROSSROADS, AT THE INTERSECTION OF yesterday & tomorrow
mad in pursuit journal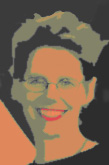 Visit our STORE.
Saturday, 11.10.07: Week In Review
Busy week on Planet Susan. And wow! I'm writing with exclamation points due to all the lively company I've been keeping!
Last Saturday we drove 11 hours from Virginia but I arrived home in a burst of creative energy. The days quickly proceeded from inspiration and aspiration to perspiration. Sunday and Monday had me running around like a crazy woman getting organized and clearing the decks for some "real" work.
Monday PM, Tuesday, Wednesday, Thursday, Friday all had me in a creative whirl, drawing and creating web pages.
Being creative with web pages always means that the heart on fire is balanced by brain in the mire as I crash into the limits of my skills. I get so mad. Even though I tell myself that I'm "puzzling through" an issue -- unlike most of life, on the computer there is always a solution or at least a workaround -- I still get obessively, insanely frustrated. By last night, I think all was under control and a couple of draft web pages up for comment.
I got a good social break by having a birthday lunch with Sheila at her country club. I wore high heels -- la-di-dah! Great lunch and blabbing about just everything. She gave me some testers for Arbonne facial products, so now I'm pampering my skin day and night till I have to give them back next week.
Thumbs Up if you liked this entry.