mad in pursuit journal
DISPATCHED FROM THE CROSSROADS
In Deeper
After my manic Monday, I've hardly moved my ass from my chair as I dig into my Integratis assignments. I got my band of babysitters "inked in" and pawed through my notebooks to find my instructions for making a continuous loop in Adobe Flash. Now I have to figure out how to make it STOP (heh-heh).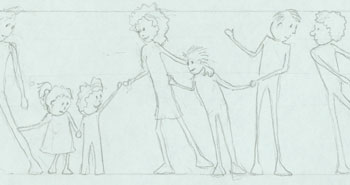 I could have played forever, but decided I better get the web pages laid out. No animations are going up without web pages. Decided to take a different approach with Dreamweaver than my usual text-laden Mad In Pursuit pages. More learning and re-learning. Fun.
11.8.07
Thumbs Up if you liked this entry.