Sunday, 10.8.00
Busted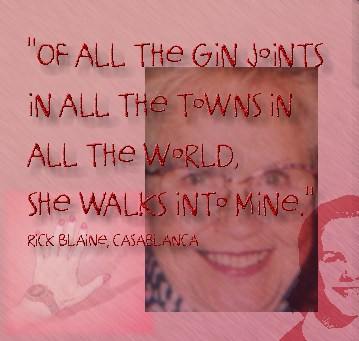 My mother told me today that she found this web site. My Big Secret.
I'd called her because we hadn't talked in a while. "We must have ESP," she said. "I was going to call you too." Then after a minute she said, "I wanted to talk to you about something…" I stopped breathing: who was in trouble? But her voice was matter-of-fact, not taut the way it is when there's bad news to share.
"I just wanted to let you know," she continued, "that I will be your friend forever."
The pricklies swept over me. I understood instantly. Those words are on the home page of Mad in Pursuit: This journal is a progressive work of art. I'm trying to find my voice, not trying to please. If you think you know me, you don't. If you find me, you have to be my friend forever.
"You found my experimental site?" I emphasized the word experimental out of the impulse to want her to think it was all a fabrication, a game, a fiction. I wanted to establish emotional distance: not "ohmygod you found my hideous secrets" but "oh that experiment that may or may not be about the real me." Great impulse… to protect your mother from knowing her child.
I've been so careful… disguising names and places, trying to carve out an anonymous corner of the web for a woman called Maddie. Anonymous but POPULAR, of course. Some days the only visitors to my site are search engine robots. And it was a damn search engine that gave me away. My mother was searching on the Missouri home town of her great grandparents and got directed to one of my journal entries where I'd mentioned it in connection to the log cabin my pioneer ancestors had built and that we'd visited on our last trip to St. Louis. She thought it was amazing that someone else could have found the family log cabin in the same town and kept reading. Soon she was thinking: "Hmmm… this Maddie person sounds like my S-----." And so it was.
But how cool of her to tell me… and in such an affirming way. My friend forever.
YES. I wanted to gush everything out to her at the same time telling her how very private it all was and that she needed to be ready to absorb all those things – petty and grand – that women keep from their mothers. Aside from the usual question about "if it's so private, why post it on the internet," she said she was going to respect my privacy and not delve into it. Had she read more than she cared to know already as she unraveled the mystery? She loves reading my "public" web site and does so with great attentiveness (finding, for example, the tiny little links I stuck on the homepage to get to my eBay photos). And she never belonged to the school of thought that children had any privacy rights: if she was going to take care of us, she needed to know everything. You left something lying around and it got read.
"You can run, but you can't hide." She was teasing me now. "Your mother will always find you."
Isn't it funny how my first instinct is to hide the imperfect complex woman that I am from my mother? I was the perfect child: obedient and bright. That became my burden: never let the façade crack because what if all that love I got was only a reward for being good? A ridiculous notion, of course. My brother perfected the art of screwing up and my parents cling to him with fierce devotion.
She said she didn't want to read it if it was private but still felt I needed to know she found it. I told her how much I loved her and that writing about my life in these entries made me realize how often she was quietly there for me, always having just the right word of wisdom, as I pressed relentlessly for my independence.
"I know your life has been a lot more interesting than mine and that you've done a lot of things. I've just stayed safe in my little house," she said.
The conversation leaves me reeling. What now? If my 75-y.o. mother found me, who else has? The intimacy I feel with my mother at this moment makes me burn with love. The thought of being busted – of having others without my mother's loyalty pawing through my life and getting all twisted over my opinions and characterizations – that thought chills me to the bone.
Is it time to kill off Maddie?