Saturday 12.17.05: Week in Review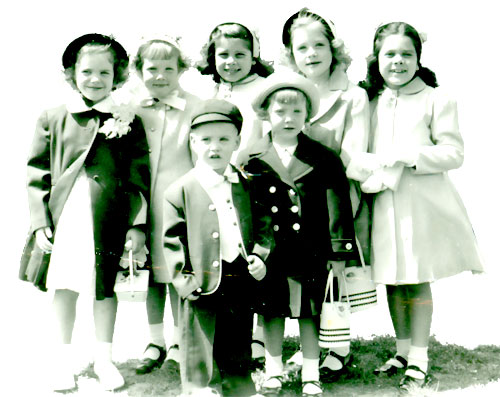 Monday. Social. Impromptu lunch with Maria and her son Matthew. Stop by Joanne's to diagnose a web glitch and check out her new house.
Tuesday. My attempt at Christmas shopping. Not very satisfying. Like a lot of people, I wind up only with that feeling of anxious inadequacy.
Mid-week. Decided I'd put so much work into my Price-side ancestor pages that I should let my cousins know about it. Seems like someone should be interested. My little flyer turned out to be my first real Adobe InDesign project and the quirkiest of Christmas letters. It included the above , from a photo of me and the first wave of Price cousins (1954 Easter in my grandmother's back yard). That's me on the left, trying to be subtle about opening my coat to reveal the beautiful dress my mother had made for me, and equally proud of the corsage my father had given me.
That led me to spending more time "fixing up" the Price pages, which led to my exploring the whole team of Price carpenters.
Did a little more internet marketeting -- trying to raise some interest in my Castlewood pages among St. Louis family history buffs.
Friday. Got fixated on the idea of "memory maps." Woke up with something in mind to try, then worked on and off the rest of the day on a more ambitious project, which will be a tutorial here.
Can't remember what else...
<<< last week | next week >>>