Wednesday, 8.24.05: "Redesigning" Reinvented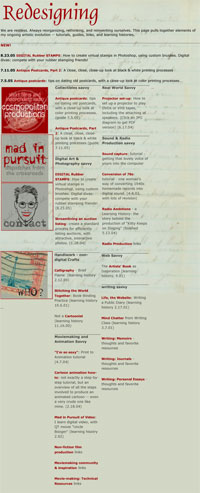 On May 16 I explained how I wasn't really suited to be a "true" blogger -- I'm way too longwinded and way too unsociable.
So, just as I dismantle "Greed & Arrogance," on May 22 I turn around and create a new one: "Redesigning." This was going to be the repository for all my arts-related web-cruising and inspirational breakthroughs.
Hmmm... Some lessons need to be learned twice. "Green & Arrogance" were impassioned rants during a passionate political season and got a few readers. At best, "Redesigning" got a couple polite passersby, then expired. By July 7 I knew I couldn't keep up with a train of thought that got no feedback, no evidence of readership (unsociable I may be, but I'm not a hermit).
But I had bought a domain name that I really liked. And the domain name is mine, without anything to do with the Salon blog hosting site.
Since I wrote up a Photoshop tutorial the other day, yesterday became the day to tackled the rebirthing process for Redesigning.
I eliminated what used to be my "Craft" contents page and started building on to my old "Cosmo Resources" page. I scanned in old Civil War letter from one of Jim's notebooks to be the background. It turned out a little greenish, so instead of neutralizing it to gray, I let a new color scheme emerge. Had some more Photoshop fun playing with the graphics.
My last step was to redirect www.redesigning.org from the Salon blog to my new page. The image at the right is how the page gets captured as a .pdf file -- sort of what it looks like now.
My goal is to keep the page active, but I don't have to worry about posting there every day.
Another project done (for the moment).