Tuesday, 8.2.05: Highland's Humidicrib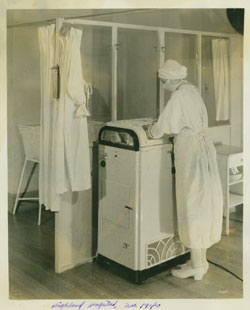 The Highland Hospital album project was rescued by Jim. He sat at the kitchen table and wrestled all the photos and clippings off their disintegrating album pages and sorted them by topic. He also suggested that, instead of being pasted down on mat board, they could be inserted into plastic sleeves in a notebook. We have tons of good plastic sleeves around for his other collections. Why didn't I think of that?
So yesterday afternoon, when I got tired of listing sheet music, I returned to the album project. I think it must have been assembled by someone working in Highland's PR office. Most of it consists of historical pictures of the hospital (reproduced from newspaper articles -- you can see the halftone dots) and detailed pictures of various construction and repair projects that occurred about 1940.
More interesting are the photos of the nursery from about the same time.
Here's what I discovered:
Until 1921, Highland was the Hahnemann hospital (yes, like the one in Philadelphia), founded by the "Hahnemannite" branch of homeopaths, an alternative mode of medicine that basically relies on the placebo effect for its cures. Apparently they received lots of support. They had a campus full of buildings named after the local bigwigs, like Eastman (inventor of the Kodak) and Sibley (department store magnate). Today, it's crowded into a city block, a hodgepodge of modern hospital architecture, its identity subsumed into a large hospital system.
Sometime between Hahnemann and hodgepodge, Highland became known as an innovator in the care of premature infants. In 1937, Miss Louie A. Hall gave them $200,000 to build the first freestanding maternity ward in the community. And between 1928 and 1934, anonymous staff members invented the Humidicrib -- the modern baby incubator. They figured out that premies needed not only heat, but also humidity. The Humidicrib caught on -- there are clippings from Chicago, South Dakota and Washington DC -- and apparently set the standard for modern baby incubators.
Rochester loves to tout its historic innovators, but we'd never heard of this one.