Wednesday, 7.20.05: Homicide
It makes you pause to learn that family folklore is true.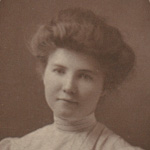 In a rare moment of adult conversation with my grandmother, she told me that her older sister Nellie had died from an illegal abortion. It's a haunting bit of information, something my 1960s teenage self hardly knew what to do with.
I never thought of my family's beliefs about abortion along the rigid battle lines that rage now. Grand ideology was not really part of the deal. Pragmatism was more important. Catholic sure, but when it's 3 A.M. in the soul, you do what you gotta do. You take care of business, you make a decision, and you move on. The very private lives of women.
When my grandmother told me about Nellie, she wasn't lecturing me about morality or ideology. The sense I got was this: women have choices, but choices have consequences.
We never spoke of Nellie again.
As we put together information for our family history, I wondered about Nellie's death in 1913. I didn't doubt my grandmother's story, but I wondered what the official version was. I'm sure many abortion deaths were either undiagnosed or discreetly covered up by a physician who wished to protect a family's reputation.
Yesterday, Nellie's death certificate arrived.
No hush-up here. The Coroner's Office had taken charge and pronounced the cause of death to be "peritonitis due to abortion." The Deputy Coroner who signed the death certificate underscores that this was not a spontaneous event, but a "homicide."
I wonder who knew about Nellie's plans. Who understood the agony she was going through? Her husband Harry? Her sister Kitty? Was it her decision alone? Did Harry (who had just had a child by his previous wife) insist she take care of it? Did she have girlfriends advising her? Did she have to travel to the legendary "back alley"? Or did the neighborhood midwife stop by the house with her tools? When the infection set in, who was there to help her? Who was with her when she died?
So many questions...