Monday, 7.18.05: Auction Vacation
I've been on a roll with my auction processes. Maybe my work is more efficient. Maybe I'm not doing the kind of leisurely research I used to. My recent whirl of closet cleaning also uncovered lots of fresh new merchandise.
But after a lackluster set of sales this week, the light bulb went off. July and August are not good auction months. I like to think that people use their summer vacations to sit in front of their computers and work on their collections. But that's me.
I forget that Europeans abandon their city neighborhoods to the tourist swarms. I forget that, even in this steamroom of a summer, people go away on vacation, seeking watery refuges away from their computers.
So I guess I'll take a vacation too.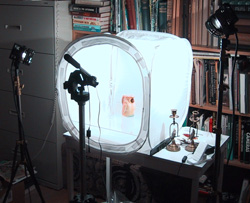 But there are still lots of things to do:
... Stock up our store with sheet music, parrot knickknacks, old jewelry, postcards, stereo views
... Figure out what to do with the giant Fredonia photo collection
... Strategize about book sales
... Get things photographed, researched, and written up for September
... Learn to use my light tent -- my newest collection management innovation. The photo here shows the light tent in action. The idea is to have lights on both sides and put your object in the middle. The tent diffuses the light into a nice even glow. It's already done wonders for my table-top photography, but -- as with everything -- I have a lot to learn. The problem isn't in the set-up or my camera or the kind of lights. The problem is my eyes: they aren't well trained to "paint with light," which is what good photographers know how to do.
... Oh, maybe I should get out of the house once in a while myself.