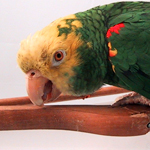 Parrot Juju
Amazon parrots are charismatic creatures. They symbolize the power of personality, intelligence, and beauty over size.
A parrot mask or fetish embodies the potent spirit of the parrot and enhances the following powers:
... to observe the world keenly, but from a lofty perspective
... to communicate with empathy, but to speak loudly about things that are important to you
... to be more sociable, not only among your own people, but also with a "mixed flock"
... to be witty and clever in a way that exhibits both intelligence and humor
... to be mindful of your own beauty and how it is distinct from the beauty of others around you
Used as an amulet or charm, the parrot image or feather will ward off the following kinds of evildoers:
... hypocrites
... idiots
... teasers
... manipulators
... psycho-bitches
Warning: Parrotphernalia used for nefarious purposes will cause the perpetrator to loose their teeth and get scaly feet. The world will be their cage.
Thursday 7.14.05