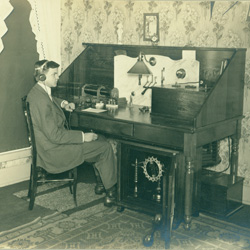 Thursday 6.30.05: A Radio Project?
Yesterday's musing about radio stuck with me.
Among all the writing I do every day, there must be some radio shows.
I thought about all may pages on ebay selling. Recently I made sort of a cover page for the main entries. For a couple months there I really blabbed on.
Now if I were doing a podcast, I might just read the entries into "episodes," as rambling and unstructured as they are.
But I can't fake spontaneity about entries I wrote months ago.
BIGGER IDEA: Do some proper editing and design a series of 2-minute episodes for broadcast on public radio.
PLUSES: (1) Ebay is huge and will be celebrating its 10th anniversary in September. (Ah! A deadline!) (2) My perspective is offbeat -- about my relationship to the process and to the interesting objects coming out of our closets. It's not a "get rich quick" story.
I spent the rest of yesterday morning copying my entries into Word. They divide up pretty nicely into short episodes, but some serious restructuring of the entries will be needed to make sure each of them make a point. They won't fall into the category of "hilarious" but they do need punch lines.
Stay tuned...