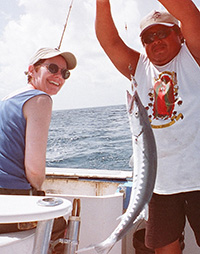 Friday 6.3.05: Barracuda Queen
My readers are aware of my "Babes in Boyland" aspirations - the struggles of me and my pal Maria to break into the world of fishing in upstate New York.
But to hell with following the cold-water boys, to hell with trying to figure out their secret fishing holes and puzzling over their tidbits of cryptic advice.
This trip I went strictly Hemingway. Plunk down your money and hire a private boat with guys who get paid to help you catch fish - even if you are a girl.
In several trips to the Caribbean, I'd never gone deep-sea fishing. Scuba was my game till the ears couldn't take it anymore. If you can't dive, the "adventure" packages on the island of Cozumel involve all-terrain vehicles roaring through scrubby jungle (somehow referred to as eco-tours) or lazy snorkels along hurricane ravaged reef.
Since the snorkeling was fine right off the shore at our hotel, fishing seemed like the logical choice for a half-day's adventure. The concierge booked us on the Mahi-Mahi, operated by a couple of Mayan locals.
The boat trolled. And trolled and trolled. We were out for a couple hours with nothing to show for it. I asked myself: Would it be so terrible to go deep-sea fishing and not catch a thing? YES! I had to resort to my bass-fishing incantation, come to me, candy. The magic was not apparently strong enough to attract marlin or tarpon, but did manage to hook some mean-looking barracuda.
I landed three big ones. Jim generously let me be the Big Game Fisher while he documented my she-woman accomplishments.
As is typical of my sporting endeavors, I was more muscle than finesse. "Reel! Reel!" Josť screamed at me and so I reeled, my hand full of blisters by the time our work was done. It was only later that Jim provided me with coaching about the actual technique one is supposed to use to tease these big bruisers into your boat.
My only regret is that we didn't release our catch. I usually think of that as part of the come to me candy deal. I want to play a game with the fish, not kill them. But our guides had other ideas - either selling them or serving them up to their families.
I haven't decided yet whether deep-sea fishing is a thrill I'll return to. Do I need this kind of mojo? We'll see.