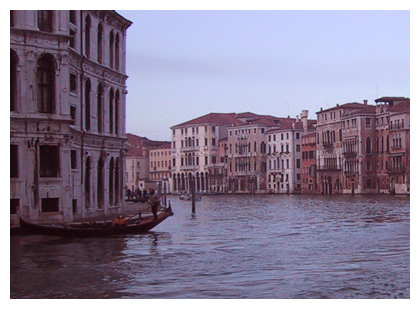 December, 2004
Italy: Venice Impressions
- 1 -
St. Mark's Cathedral
And Giorgio Armani -
That is one Venice.
- 2 -
A tangle of streets
And getting lost together -
That is our Venice.
*
They say you should pity the poor travel writer who gets assigned to Venice - because everything you can possibly think to say about it has already been said, and by the best writers.
But I'll venture to say this: Venice is a completely unique place -- a crazy quilt of stone buildings forming a maze of narrow paths between them. And this stone maze overlays another maze of narrow canals. The wide Grand Canal snakes down the middle. It was founded by people escaping from mainland barbarians. They floated out to a cluster of "uninhabitable" islands and decided they could turn it into a permanent safe haven and base for their seafaring wars and businesses. Their thinking was completely innovative.
Pictures don't do it justice. Your camera always turns to the glassy green water of the canals. It's hard to capture the interplay between the still waters, the decaying wall surfaces, and the narrow stone paths and bridges that crisscross the water. There is no "traffic" -- no wheeled vehicles except for handcarts -- only pedestrians. I'm glad we didn't go in summer, when it is crowded and hot and the canals begin to stink. In December it is chilly and overcast, but this heightens the sense of mystery and ancient intrigue. (Walking on a dark path between unlit buildings at night feels perfectly safe now, but was once a convenient place for ambush and murder.) The slightest mist turns the city into a dream. The dampness has a kind of sexual feel, which saves the place from being simply the prototype for a Disney attraction.
To be continued...
1.4.04