The Zimmers of Weedsport
This little essay pulls together what we know about Jim's father's family. It draws mostly from census data available through 1940 on ancestry.com and on snippets of history in our files.
Jim's father James Henry (25 Aug 1904-14 Apr 1995) was born on a farm along the south side of the Erie Canal, in the town of Brutus NY, near the village of Weedsport. His his father was 30 years old and his mother, 28. He was transported to Long Island to be baptised at Trinity Episcopal Church under the supervision of his Grandmother Carman and at age 2 joined the Cradle Roll Sunday School at a Presbyterian church in the Weedsport area. He was the elder of two children. His sister Eleanor G. [Griffith?] was born on Christmas Day, 1907. A handful of report cards from Weedsport High School indicates James was an excellent student.
Jim's grandparents
The 1900 census shows that JH's father Charles Henry (1 Feb 1872-27 Mar 1938) was the 27-year-old, unmarried head of household, living with his parents and three younger brothers in the family home in Brutus Township (see the above map). His occupation was listed as "farmer." Family records also show that he had a gig as a Railway Postal Clerk (Class 2), from as early as 1893* till his resignation in April, 1903.** This meant that he sorted mail on the train between New York City and Chicago IL. It's probably no coincidence that his resignation from that job occurred about the time he married Mary Edna Griffith of Long Island, on New Year's Day, 1903. They married at Trinity Episcopal Church in Hewlett NY. She was 26.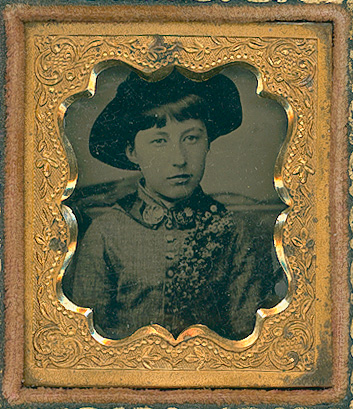 We can only wonder how this son of a German immigrant in central New York hooked up with the descendant of a long line of Long Island "founders" -- the Griffiths, Carmans, Hewletts, and others. Maybe they met on the train.
Her father James Harvey Griffith III had been a bookkeeper when she was a child [1] but by 1900 he had become a journalist and was on his second marriage, with 4 sons at home, aged 3 to 20 (James Harvey, Lester Carman, Robert Fessenden, and Benjamin Fessenden). They lived in a rented house [2]. He died at age 64 (1918), in Rhode Island, where his 2nd wife Mary Fessenden was from.
Edna's mother, Mary Hewlett Carman, died when she was 5 years old, shortly after giving birth to her third child in 1881. Edna attended South Side Union School in Rockville Centre, Long Island. We know she attended school till she was at least 18 because we have one of her essays, a beautifully handwritten tribute to the ocean. The data suggests that her father did not marry Mary Fessenden and start his second family till the early 1890s. Perhaps it was "Grandma Carman" who was the mother-figure in her young life.
Charles and Edna started out their lives together on the Zimmer family farm near Weedsport. Charles continued working as a farmer [3] until 1918 or so. In 1918, James Harvey Griffith died, leaving his daughter Edna a parcel of land in East Rockaway, Long Island. According to JHG's will, a portion of the land came from Edna's maternal grandmother Elizabeth Hewlett Carman.
On Long Island, Charles got a job as a Horticulture Inspector for the New York State Department of Agriculture. According to his obituary [5], he had been "active in the campaigns to exterminate the Japanese beetle and the Dutch elm disease. He also was interested in real estate and building development and had built a number of houses in Long Beach and in the vicinity of East Rockaway." The family lived at several addresses on or near Carman Avenue in East Rockaway [4], just around the corner from Sachem Street where Jim's parents would settle in 1926.
We can see from this that Jim's father probably didn't consider himself a Long Islander. He would have been a farmboy along the Erie Canal in Weedsport till about age 15, then went off to college at Cornell at age 17 in 1921.
It was also about this time that Edna claimed her heritage as a descendant of the Revolutionary War patriot Samuel Carman and was admitted into the Anne Cary Chapter of the Daughters of the American Revolution in October, 1925. Her great-great grandfather Colonel Carman had been awarded 600 acres of land for his service and this may have been the basis for the family property.
Charles died of heart disease while wintering in Delray Beach, Florida in 1936, at the age of 66. His wife Edna lived on and died at her son's Newton, Massachusetts, home in 1946 at the age of 70.
Jim's great-grandparents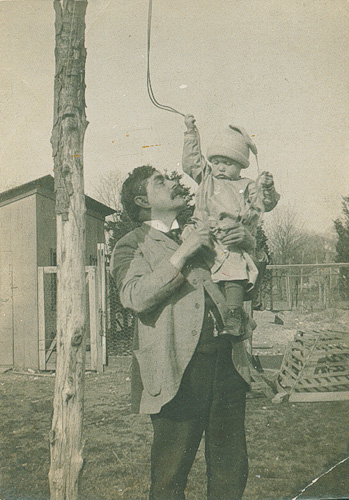 Henry Zimmer was born 13 Aug 1842 in Kassel, Nordrhein-Westfalen -- along the Rhine River, not far from Dusseldorf in the west of Germany near the borders of Netherlands, Belgium, Luxembourg and France. According to GermanImmigrants1860s.com, on 2 Mar 1867, at age 24, he arrived in the US on board the ship Marcia C Day (which left from Havre with 156 passengers). He became a naturalized citizen. About 1870, he married an American woman, Almina (aka Elmina, Almira), and they had 6 children.
Between his arrival on US soil 1n 1867 and the census in 1900, I can't find any data as yet on where he lived. Did he hang around New York City for a time or did he head straight for farm country? It's curious how he wound up in Weedsport, since a scan of the 1900 census data doesn't show a particular German settlement there.
At the time of the 1900 census, the 58-year-old Henry and his wife were living with their son Charles. Henry listed his occupation as mason, but had been out of work for 6 months. (Perhaps he worked on canal maintenance?) According to the 1910 census, at age 68, he and Almina had moved to South Street in the village of Weedsport, with their daughter Caroline.
The Henry and Almina Zimmer's children were as follows:
Christina (1870) married James Southworth and they lived in Auburn NY. In 1920, her husband was working as a janitor for the public school and she worked as a housekeeper in a private home [4]. In 1930 and 1940, she was not working, but James continued as a janitor for the library [6, 7]. There is no indication of children. The 1940 census indicates she had a 4th grade education.
Charles Henry (1 Feb 1872 - 27 Mar 1938) [see above]
Peter Paul (Jun 1875 - [?]). I have assumed that the P. Zimmer in the upper left of the 1904 map is Peter. He and his wife Mary Catherine (aka Cassie) moved to Jackson, MS (1910, 1920 census), where he worked as a farmer and laborer. By 1925 [9], they had returned to NY (Tyre [and/or Seneca Falls], Seneca County), where Peter worked as a carpenter. There is no indication that they had children.
Ludo L. (Jun 1878 - [?]) and his wife Mabel had 7 children: Ludo Jr (1907), Frances (1909), Donald (1910), Paul W (1913), John L (1918), Jane (1922), and Mabel Ann (1927). Ludo became a veterinarian and in 1910 was practicing in Elmira NY [3]. By 1920 [4], the family had moved to Michigan, where he worked as a dairy specialist. By 1930 [6], he had apparently switch careers, working in his own business as an aviation engineer in Cleveland. By 1940 [7], another move sees him near his brother Charles in Rockville Center, Long Island, where he worked as an industrial engineer.
Carolyn (1879). In 1910, she lived and worked in the village of Weedsport. She worked as a school teacher. Sometime between 1915 [8] and 1921 [10], Carolyn and her mother Almina moved to Rochester NY, where Carolyn continued to work as a school teacher beyond the time of the 1940 census. Almina died in 1936. Her brother Will was living with her in 1940 [7]
William Walter (29 Mar 1881). In 1935 Will had been living in New York City, but by 1940 he had moved in with his sister Carolyn in Rochester NY, where he worked as an advertising salesman [7]. The 1940 census also indicates he had some college. [There may be some confusion over the records -- another William Walter Zimmer, born 29 Mar 1881, lived in Brooklyn and is clearly not the son of Henry and Almina.]
12.21.2013