home> family history> price family> price family of mathon> this page
James & Ann Price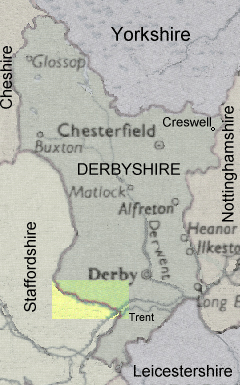 James Price and Ann Nash are my great-great grandparents (2nd great grandparents) on my father's (father's, father's) side. They are the odd English ones among the slew of Irish.
James was born in Worcestershire, but moved north to Derbyshire, where, at the age of 20, he married the 19-year-old Ann Nash.
They lived out their days together in the corner of Derbyshire where Ann was born, on the border of Staffordshire, along the Dove River. (Civil District of Uttoxeter)
They lost their first child George soon after he was born. In 1859, they had their only surviving child -- William James, my great grandfather.
English census data was used to track his whereabouts and occupation.
In 1841, working as a "male servant" on the John Graves farm in Mathon. He was only about 10 years old.
In 1851, James and Ann were newlyweds visiting with an old couple on Dale Brooke in Sudbury, Samuel and Mary Woolley and their 4-year-old grand-daughter Elizabeth. James' occupation is listed as "labourer." These were likely relatives (aunt and uncle?) of Ann, since her grandmother's maiden name was " Wholley."
In 1861, James and Ann were living with the 2-year-old William in Aston, in the parish (or sub-district) of Sudbury, district of Burton Upon Trent. (See map below.) James is listed as an "ag lab" (agricultural labourer). Farm worker. If I understand the hierarchy correctly, this meant they were extremely poor, not able to rent even the smallest bit of their own acreage.
In 1871, they were living in the environs of Church Boughton. James is still a farm worker.
By the census of 1881, we pick them up in the civil parish of Foston & Scropton, on or near Hay Lane (over the border in Staffordshire). James is listed as "George" but the other data checks out. He is working as a general labourer. They are living in a grocers shop, where Ann is a shopkeeper and 22-year-old William is a carpenter.
In 1891, they lived on Flacket's Lane in the parish of Doveridge with 3 other families: a dairy farmer (with wife and daughter) well-off enough to have a 16-year-old farm servant; a groom and his wife; and a bricklayer with wife and daughter. James is listed as a "general labourer." By this time, their son William had married and taken his family to America.
In 1901, they are living in the same place, with the same farmer neighbor (minus the servant). The other two cottages are occupied by a butler and a gardener's laborer. James is 70 and retired by then, but reports his past occupation as "collier" -- a coal miner. This makes sense if you think that farm labor is seasonal work. When it's too cold to farm, you work in the mines.
In spite of their harsh existence, James and Ann lived long lives for those times. James died at the age of 73. There are two possible death records for Ann, one in 1904 (she would have been 72) and one in 1910 (when she would have been 78).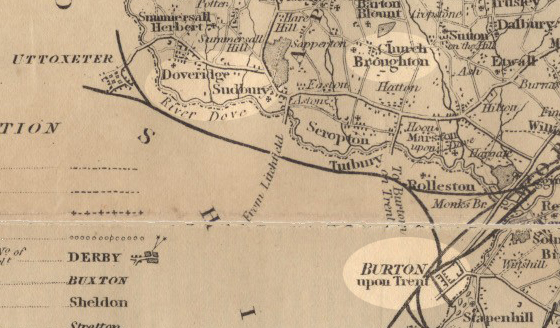 5.18.05 (revised 9 Mar 2015)
DETAILS
James Price
Born: 1831, Mathon, Worcestershire, England (alternately given as "Malvern" or "Hereford, Mathon")
Died: 1st quarter 1904, Derbyshire (district of Uttoxeter)
Ann Nash Price
Born: 1832, Derbyshire, England (probably the Sudbury subdistrict of Uttoxeter district)
Died: either 1904 or 1910, Derbyshire (district of Uttoxeter) [to be checked out]
Married: probably 1st Quarter 1851 (district of Uttoxeter) [to be checked out]
Children
George
Born and Died: 1st quarter, 1852, Derbyshire (district of Uttoxeter)
William James Price
Born: 31 Jan 1859 Derbyshire England (Sudbury subdistrict of Uttoxeter district)
Died: June 1934 St. Louis MO
LINKS
Sudbury village, with references to Lord Vernon on whose estate young William went to school.