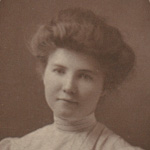 Nellie Flanagan, 4
Who is Harry Kralemann?
The only thing we know for sure about Nellie's husband is his statement at the March 1913 inquest that he is a railroad clerk. On their marriage license his name is listed as "AH Kralemann." Countless visits to the Ancestry database leaves me only with the following man:
Harry August Kralemann

Born: 1 May 1890, St. Louis MO. In the 1900 Census, he is living on Hebert St. with his parents Mary4 (b. Jun 1872) and August3 (b. Mar 1871), both children of German immigrants. His younger siblings were Stella and Arthur. By 1910, it looks like his parents separated and, on the census, each claimed to be widowed.
Harry registered for the draft on 5 June 1917 from his address on 1220 Hebert St, which would have been 4 years after Nellie's demise. He was working as a bookkeeper for OJ Lewis on 8th and Lucas in St. Louis. He is described as tall, with medium build, gray eyes, light brown hair. He petitioned for an exemption as the sole support of his mother, but apparently it was not granted.
According to the Missouri archives, he was inducted into the army for World War I on 22 July 1918, from his address at 3940 W Lee Av, St. Louis, MO. He was a private. No evidence that he had remarried.
He died 18 Feb 1945 (age 55) and was buried in plot 43 0 15700 at the military cemetery Jefferson Barracks National Cemetery in St. Louis.
This doesn't tell us much about the man who was incapable of easing Nellie's torture.
4.24.05 (last updated on 5.20.09)
NOTES
3 In the 1910 Census, August E Kraleman is living on Madison St, listed as Widowed (?) and living with a "partner" named Vogel who was a baker. In 1920, he is living alone in an apartment, but listed as "married."
4 In 1920 Mary is living alone at 1446 Dodier St, claiming to be "widowed."