Ewald Curran As A Young Man
In my mother's mind Ewald was always there.
What I always knew was that Ewald married my grandmother Kitty when my mother Kathleen was 11 years old. Kitty was a sociable widow of 47. He was 32.
And I knew my mother was thrilled to finally have a father.
Ewald was on the young end of a family of 12 children -- what he liked to call "a baseball team [9 boys] and 3 cheerleaders [the girls]." They lived at 5858 Romaine Place, a couple blocks from Rowan and Ridge, where my grandfather Tom Barrett started his last grocery store in the early 1920s.
When Kitty and Tom had their fourth child (my mom) in 1925, they had two grocery stores, one on Easton Avenue and the one on Rowan. They lived in a large apartment above the Rowan store.
Eighteen months later, Tom Barrett died. The photo of my mom on the right here was taken just about that time. And there is Ewald -- practically a kid at the age of 22.
Ewald's family was in the printing business but he had taken a job managing one of the Barrett stores. We think he may have been managing the Rowan store when Tom died. After that Kitty rented out the Easton Avenue property and consolidated her business at Rowan and Ridge. Kitty and Ewald worked side by side while my mother grew up in the store, napping behind the cracker barrel.
Kitty was a dynamo and couldn't have found a better helper than the workaholic Ewald. It's hard to say when romance bloomed. The age difference was formidable. Ewald was only 9 years older than Kitty's oldest child Mary. Kitty dated a variety of men but my mother preferred Ewald.
By 19301 -- dawn of the Great Depression -- Ewald was back in the family business working as a press feeder. Maybe he still worked part-time at the store -- who knows.
Around the time Prohibition ended -- 1932ish -- Kitty and Ewald purchased All-Inn, a summer clubhouse in Castlewood. Apparently it wasn't a problem that they weren't married. Sleeping quarters were strictly dormitory style, with the women and children on the second floor and the men on the third. (You have to remember that the 1920s was a period of great women's liberation -- it wasn't till after WWII that their lives got put back into tidy boxes.)
Kitty and Ewald finally got hitched in 1936, but even after 10 years of bumming together, the road was rocky. Within a year or so, Ewald got the boot.
When my mom graduated from 8th grade in 1938, Ewald gave her a second-hand candid camera. She associates that gift with Kitty and Ewald getting back together. In 1939 the couple opened the All-Inn Tavern & Restaurant in a space behind the grocery store, which was now being run by Kitty's two sons Bill and Bob. I guess that Ewald continued his job at Con P Curran Printing, while Kitty ran this new venture and put her daughter Mary to work.
I could go on and on with the saga of Kitty and Ewald -- they worked hard, they loved to argue, and they had a ton of fun. Maybe it's enough for now to say that, while Tom Barrett may have given my mother his brains, Ewald was truly her father.
*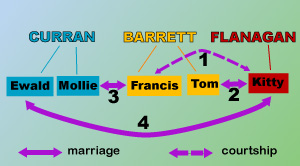 Family Ties. I should mention that the Barretts and the Currans were entwined in ways a little more complex than Ewald + Kitty.
Kitty Flanagan went with Francis Barrett first. But Tom Barrett stole her away.
Francis went on to marry Mollie Curran.
Mollie was Ewald's older sister