mad in pursuit memoir notebook
DISPATCHED FROM THE intersection of yesterday and forever
Ewald Curran, Grandfather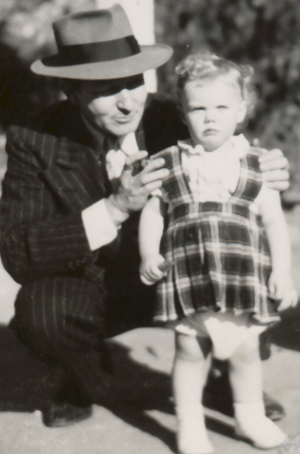 Today is the 100th anniversary of my grandfather's birth. Ewald was my grandmother's second husband and the only father my mother ever knew. He was 32 when my grandmother -- a widow with 4 children -- married him in 1936. She was 46 and the owner of two grocery stores. He was her handsome clerk, who doted on her youngest child -- my mother, who was raised among the cracker barrels.
I only knew him as a printer. For years he worked for his uncle, who owned Con P. Curran Printing, then he moved on to a place that printed 4-color religious books. According to my dad he was the town's best troubleshooter on a four-color press. But what might be one of my earliest memories of him is when he came home one evening with both hands totally bandaged because he'd caught them in the press. I was at my grandmother's and saw him first as he walked down the long hallway to the kitchen where everyone was. There was a moment of shrill panic, but he assured everyone he was fine. All in a day's work.
That was my first memory of Ewald the working man. That, and the fact that his hands were always stained with printers' ink.
My earliest memory of Ewald as grandfather was one Thanksgiving when I had an earache. As the adults carried on the after-dinner conversation in my grandparents' big dining room, I sat next to him and complained about my ear. He had me lay my head on his knee and he cupped his hand over my throbbing ear to warm it. It was a perfect moment that I never wanted to end.
Ewald was a union guy and an active Democrat who was always busy on election day. He was also the kind of guy who spun a yarn from the middle, assuming you knew who Matt O'Neill was. I never quite got who Matt O'Neill was but he figured strongly in all Ewald's stories. He loved to argue politics with my grandmother over a few beers. She would finally end the argument by quoting a Shakespeare-sounding, "He speaks yet says nothing."
But he was also the only adult I ever knew who kneeled down to pray every night before going to bed. He also had a handgun in the nightstand -- God helps those who help themselves.
He had 8 brothers and 3 sisters ("baseball team and 3 cheerleaders") and carried his mother's obituary in his wallet. She died of a cerebral hemorrhage, he said.
We spent every weekend of my early youth at my grandmother's clubhouse in Castlewood. Lots of beer. Big blocks of ice chipped with an ice pick to chill the beer. Horseshoes. An motor-driven cement mixer that put-putted every weekend as Ewald supervised construction of wildly uneven steps carved into the hills and a series of septic tanks. On Sundays he would wake my brother and me and one or two cousins to go to 6 o'clock Mass, then make mountains of breakfast -- bacon, sausage, eggs, toast, melon -- for all the late sleepers.
My brother Tom and I would go on great excursions with him and my dad, but we would somehow always end up at a bar, where more beer was consumed and we kids got to play pinball or that bowling game with the silver pucks and sawdust-covered sliding board. Lincoln Lodge. Mike Hrin's.
In 1964, days before I graduated from 8th grade, he was the one to tell me my other grandfather had died. I knew something was terribly wrong, the way my mother rushed off, and I was standing at my bedroom window staring into the twilight when Ewald came to put his arm around me and break the news. It was my first loss of a loved one and he let me cry on his shoulder.
My most sustained relationship with Ewald was during high school. For 3 of the 4 years, he picked me up on his way to work at the Christian Board of Publication about 6:40 every morning. We would wait in the car till the janitor unchained the door around 7. I suspect this made Ewald late to work, but making sure I got into the building was much more important. He would also pick me up on his way home, if I wasn't hanging out with my girlfriends, and we had a ritual of stopping at a drug store on West Pine so I could run in and buy us both an ice cream bar.
He sort of complained to my mother that in 3 years I never actually spoke to him on those drives. What can I say? I was one of those silent teenagers who couldn't think of anything meaningful to say to adults. I remember trying to talk to him about his job because I was genuinely fascinated by the fact that he ran one of those giant printing presses, but the conversation never went very far and I always wound up opening a book to have a go at my homework. But I loved his dedication to me. He had that way of making his grandchildren feel like there was never anything more important than them.
He taught me to drive in his pink DeSoto with the push button gears.
Ewald was the essence of kindness. The last time I was in St. Louis, one of my nephews threatened to have a meltdown because we went to Burger King and he forgot to order a hamburger with no garnishes. My mother -- strangely -- jumped into the car and drove to Burger King to buy the pouting nephew the correct plain burger. She said that, instead of living by the motto "What would Jesus do?" she was trying to living by the principle of "What would Ewald do?"
So that is Ewald's legacy. The man you always called on if you were a child and simply needed nonjudgmental attention.
Ewald and my father both taught me to expect kindness from men. Their common value was the love of strong women. How lucky I am. Their legacy has given me a very good life.
9.2.04

Ewald in a similar pose with my mother at a similar age. More about the Currans>>>